MaxGain cable assemblies from Times give you the lowest loss AND long life stable performance for many applications. 
 MaxGain cable assemblies give you ultra low loss, flexibility and stable, repeatable, long-life performance.
MaxGain ultra low loss, flexible microwave coaxial cable and a full range of passivated stainless steel connectors are available as fully tested custom cable assemblies. MaxGain assemblies are used for general applications in both field and laboratory conditions. They are ideally suited for applications where lowest loss and good stability over flexure is required.
  Perfect for general use!

The MaxGain Cable Assembly Brochure can be found here: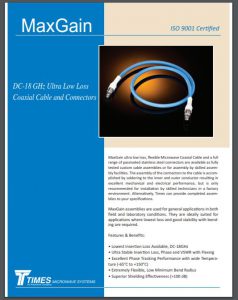 Features & Benefits:
• Lowest insertion loss available, DC - 50 GHz.
• Ultra stable insertion loss and VSWR with flexing.
• With wide temperature range (-65º C to + 150º C).
• Extremely flexible, low minimum bend radius.
• Superior shielding effectiveness (> 90 dB).
• Typical VSWR for assemblies is <1.40:1 at maximum frequencies.
Connectors are available in a wide range of precision interfaces including:
Type N, TNC SMA, 2.92mm(k), 2.4mm, SMP and MMP. Replaceable interface versions also available.